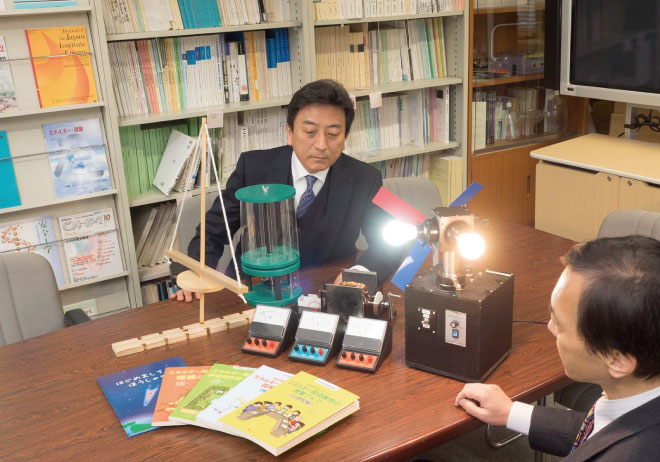 Promoting Children's
Education about Energy
Rapid economic growth in newly developing countries has triggered a surge in the demand for energy, leading thus to depletion of energy resources. Mass consumption of fossil fuels has led to global warming, and stable domestic energy supply in Japan has begun to pose a challenge after the Great East Japan Earthquake. Thus, the conditions associated with energy are worsening, as various spatial and time-dependent factors in Japan interact in a very complicated way. Under these conditions, we, Japanese people, are expected to consider more seriously the energy issue.
The Energy Research Project focuses on nuclear power as one of the most important energy sources in modern society, adopting a balanced energy-economy-ecology approach to conduct research on the desirable use of energy and its relationship with lifestyle and the environment.
In order for Japanese people to regard energy issues in terms of personal matter, it is particularly important that the education system educate children so that they can take responsibility for the 21st century. Furthermore, the Project is focused on the promotion of energy and environmental education in schools. We are developing learning models and teaching aids for energy education to be used in "comprehensive learning program" and "subject specific learning." These materials are published and are widely accepted in Japanese society.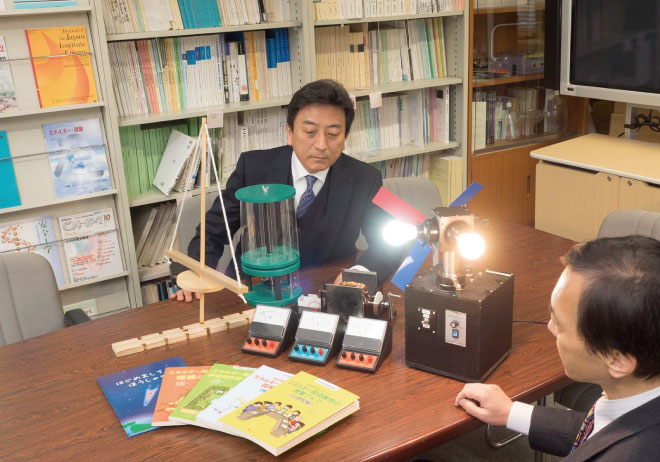 Experimental kit shows how to generate electricity

Seminar presentation

Pedaling a bike to generate electricity

Classes on the role of nuclear power generation
Key Achievements
– Books & Brochures
Education on Energy and the Environment: Teaching Materials for Elementary School,
Kokudosha Co., Ltd., 2004
(Japanese only)

Education on Energy and the Environment: Teaching Materials for Junior and Senior High Schools,
Kokudosha Co., Ltd., 2004
(Japanese only)

Education on Energy and the Environment: Theory and Practical Application,
Kokudosha Co., Ltd., 2005
(Japanese only)

Yamashiro Junior High School Eco-Challenge,
Kokudosha Co., Ltd., 2007
(Japanese only)

Implementing Energy & Environmental Education,
Kokudosha Co., Ltd., 2009
(Japanese only)

Developing Lesson Programs on Energy and the Environment: Elementary School Edition,
Kokudosha Co., Ltd., 2009
(Japanese only)

Developing Lesson Programs on Energy and the Environment: Junior High School Edition,
Kokudosha Co., Ltd., 2010
(Japanese only)
Staff